Lost/Found Pet Listings Online:
DoveLewis Emergency Vet
lost and found pet listing
Oregon Humane Society
Stray Cats List
Multnomah County Animal Services
lost and found assistance
Washington County Animal Services/Bonnie L. Hays Small Animal Shelter

-
lost and found assistance
Animal Aid
online Lost and Found Bulletin Board for Portland area
Petfinder


tips to find your missing cat or to help a stray


24PetWatch
lost pet recovery network
Missing Pet Network
lost and found listings by state
Missing Pet Partnership


search and rescue for lost/missing pets
Tabby Tracker
online Lost Cat Database
Find Toto
Lost Pet Alert Service
Together Tag



FELINE FIP


http://www.dr-addie.com/

FIP is a viral disease of cats that can affect many systems of the body. It is a progressive
disease and almost always fatal. It is found worldwide and affects not only domestic cats, but many wild ones as well, including cougars,
bobcats, lynx, lions, and cheetahs.
What causes FIP?


ADOPT CATS AND KITTENS

Humane Society Oregon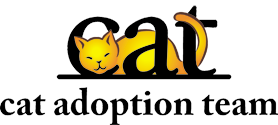 Feralcats.com